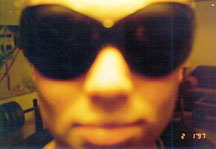 Nick: AgentSteel
Reason I chose this nick: Paradoy of a busted hacker, also, made of steel
Given name, via Ace-High: He may be soft in the belly folks, but stand back when he breaks out "Pulp Friction" (another famous porn).
Real Name: Jordan
Email Address: achtung1@mssl.uswest.net
ICQ #: 6074572
Age: 20
Playing from: Montana, USA
Where would I rather be playing from: Mars
Favorite Ship/Race/Unit: Warbird
Favorite Color or, if you had to pick a crayon to eat, which color would it be: Green
Favorite Quote: "Don't let the bastards grind you down." -Acrobat, by U2
Favorite Bands: U2, Radiohead
Favorite URLs: cnn.com
Other Interestes/Activites: I want to be a can collector when I grow up.