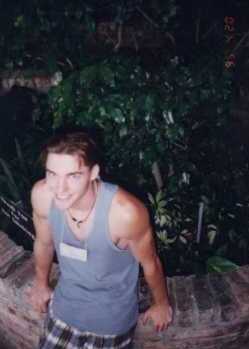 Nick: Ace-High
Reason I chose this nick: Won $300 at poker in a casino with an ace-high hand
Given name, via Ace-High: We won't discuss how a bad combination of bud, beer, and strip poker landed Ace sleeping naked in the middle of a theme park at 8 in the morning ;)
Real Name: Scooter
Email Address: mann42@mindspring.com
ICQ #: 10123745
Age: 22
Playing from: Gainesville, FL
Where would I rather be playing from: An orbital microwave satellite in geosynchronous orbit
Favorite Ship/Race/Unit: UPS/Asian women/grams
Favorite Color or, if you had to pick a crayon to eat, which color would it be: Peach, I've always had a cannabalism fetish ;)
Favorite Quote: Lasers (24.4kb) Strange Women (13kb) Mr.Madison (68.5kb)
Favorite Bands: The Doors, Pink Floyd, The Cure, Rush, Pearl Jam, Portishead, The Sundays, Frente, Subrosa
Favorite URLs: The Onion, The Daily .WAV, Misc. Funnies, Ace-High's Haven
Other Interestes/Activites: writing, weightlifting (how many SS players can bench twice their weight? doh, ego), asian women, windsurfing, Mustangs.